For those who routinely use text documents, spreadsheets or presentation slides at work or study, Microsoft Office is nigh on indispensable. You might as well say it is in a league of its own when it comes to the ultimate package for creating, managing and forwarding documents in any common format. Even though pretenders to the Office throne have sprung up in recent times, it remains a fact that no other application bundle comes close to the ease, sheer versatility and plain old familiarity we get with Microsoft Office.
The current version of Office is Office 2021, released in October 2021, along with Windows 11. Office 2019, 2016, 2013, and 2011 remain in popular usage.
Many users have recently complained about receiving the Product Activation Failed message at the top of the title bar when they open an Office application like Word, Excel or PowerPoint. This message can appear whether you have a genuine Office license or not.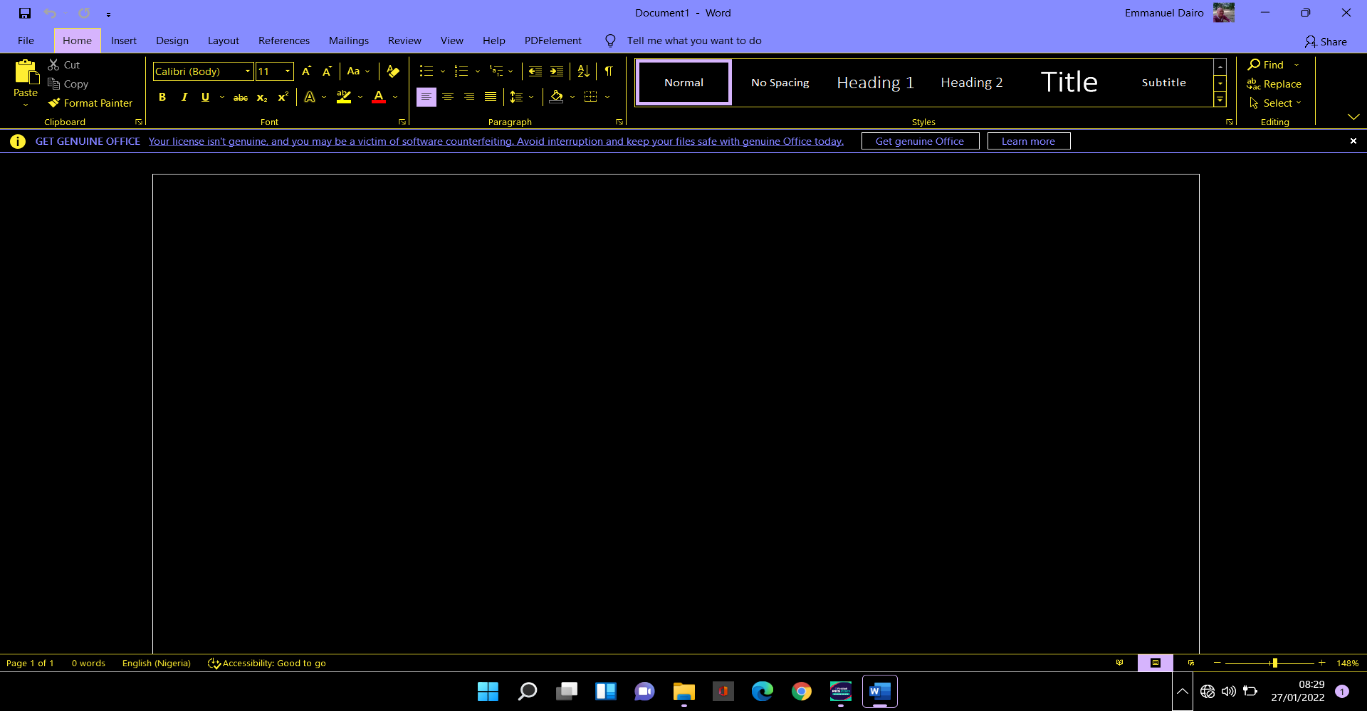 Many people in this scenario simply click the large X icon to remove the error banner and continue to go about their business. However, each time an Office app is opened, the error banner reappears.
Eventually, all Office apps lose their most important features and the user is basically stuck in read-only mode because editing and other functions are disabled.
Of course, you'd like to avoid this happening to you. That's why you're here. This is why we're here too: to help. In this article, we provide some fixes and workarounds for this error.
What If Microsoft Office Is Not Activated?
If the error message says that your Office isn't activated, it means that your Office apps are now on the level of a trial version. Depending on the type of warning you get, you can still make use of them as normal. This will, however, change if you don't take any action during the warning interval.
In older versions of Office, it was common to get Outlook Product Activation Failed for Microsoft Outlook, Excel Product Activation Failed for Microsoft Excel, and Word Product Activation Failed for Microsoft Word. Things are slightly different for Office 2019 and 2021.
Since Microsoft has moved from a product key model to a license model, the corresponding errors now mention the absence of a working license. Rather than talking about product activation, users now get these types of messages instead:
There's a problem with your Office license
Your Office license is not genuine
In the actual applications like Word, Excel, PowerPoint, and Publisher, you get one of several types of action messages informing you that your Office has been deactivated and you should make a purchase. In Microsoft Word, you get one of these messages:
PRODUCT DEACTIVATED To keep using Word without interruption, please reactivate now: This is a rectangular orange strip between the toolbar and the page, containing a white Reactivate button next to the message.
Unlicensed Product/Product Activation Failed: Both of these show up on the title bar next to the title of the opened document. If the latter message shows up instead of the former, it is still possible to use the full functionalities of Word for an indeterminate period.
There's a problem with your Office license: This message pops up the minute a Word document is opened. It tells you your copy of the application isn't activated and contains options for (re)activation.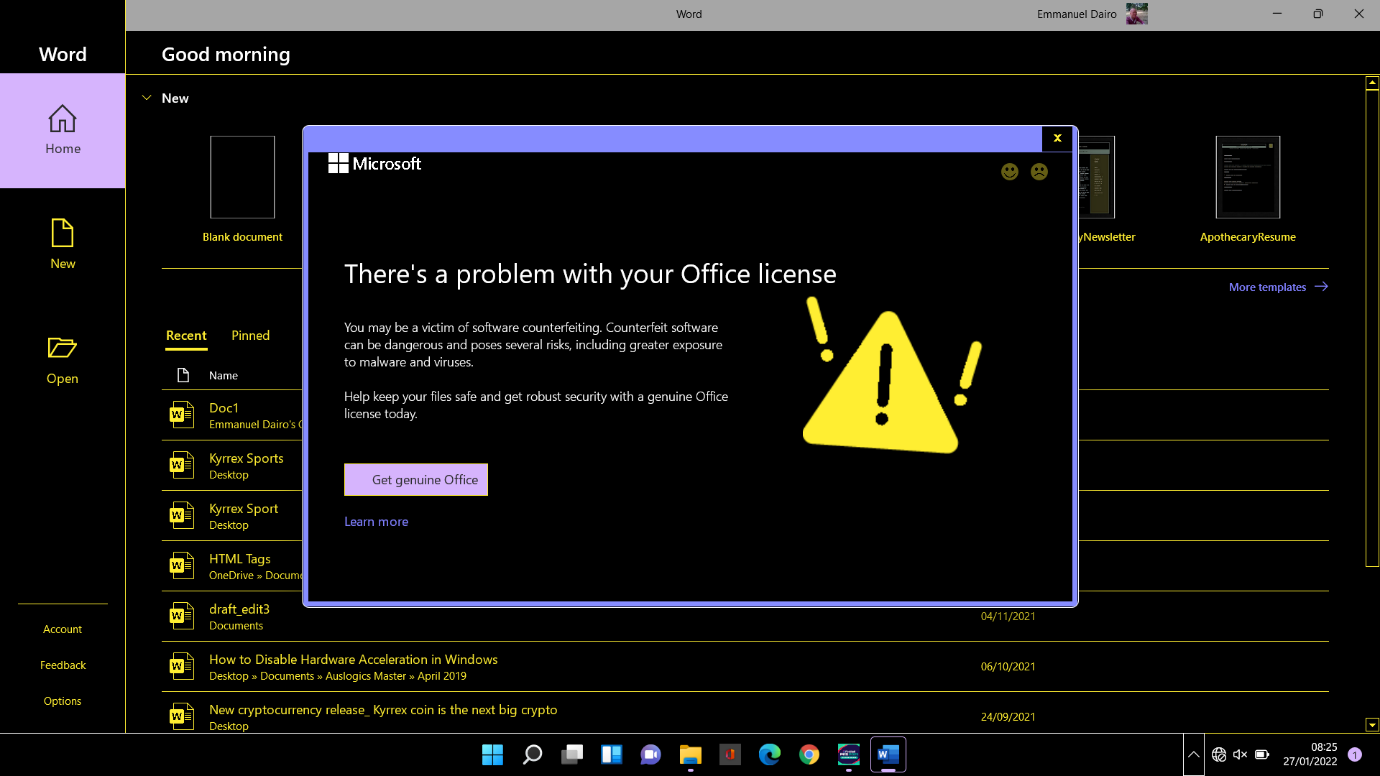 When you get these messages, you need to do something. Otherwise, you'll soon lose the creating and editing features of Office.
What Happens If Microsoft Office Is Not Activated on Windows 10?
If your Office trial period has expired and you are yet to reactivate it, a lot of things can happen when you want to use any of the applications. One of these issues happens if Microsoft Office is not activated or licensed:
Constant "Product Activation Failed" messages
Error messages telling you your copy of Word, Excel, etc. might be counterfeit
Disabled features, increasing in severity as time goes by
A dialog to enter your product key in some versions of Office
A sign-in prompt in Office 2019
Account deactivation 31-120 days after Office deactivation if you signed up through Office 365
Fixes for the "Product Activation Failed" Error in Microsoft Office
An Office activation error is not something you wish to see if you're using a genuine license. There are some reasons why the bug can mistakenly occur for you. Sometimes, it's an error on Microsoft's end, which incorrectly flags your copy of Office as unlicensed.
The Main Fix: Run the OSPREARM.EXE File
This is as easy as pie and surprisingly very effective. You just need to accept the Office folder on your PC and run a specific file in admin mode:
Close all running Microsoft Office apps.
Open File Explorer from your taskbar.
Navigate to a location below depending on whether you're using a 32-bit or 64-bit version of Office. X stands for your Office edition.
C:Program FilesMicrosoft OfficeOfficeX
C:Program Files (x86)Microsoft OfficeOfficeX
Locate OSPPREARM.exe in this folder.
Right-click the file and select Run as administrator.
Repeat the previous step a couple more times.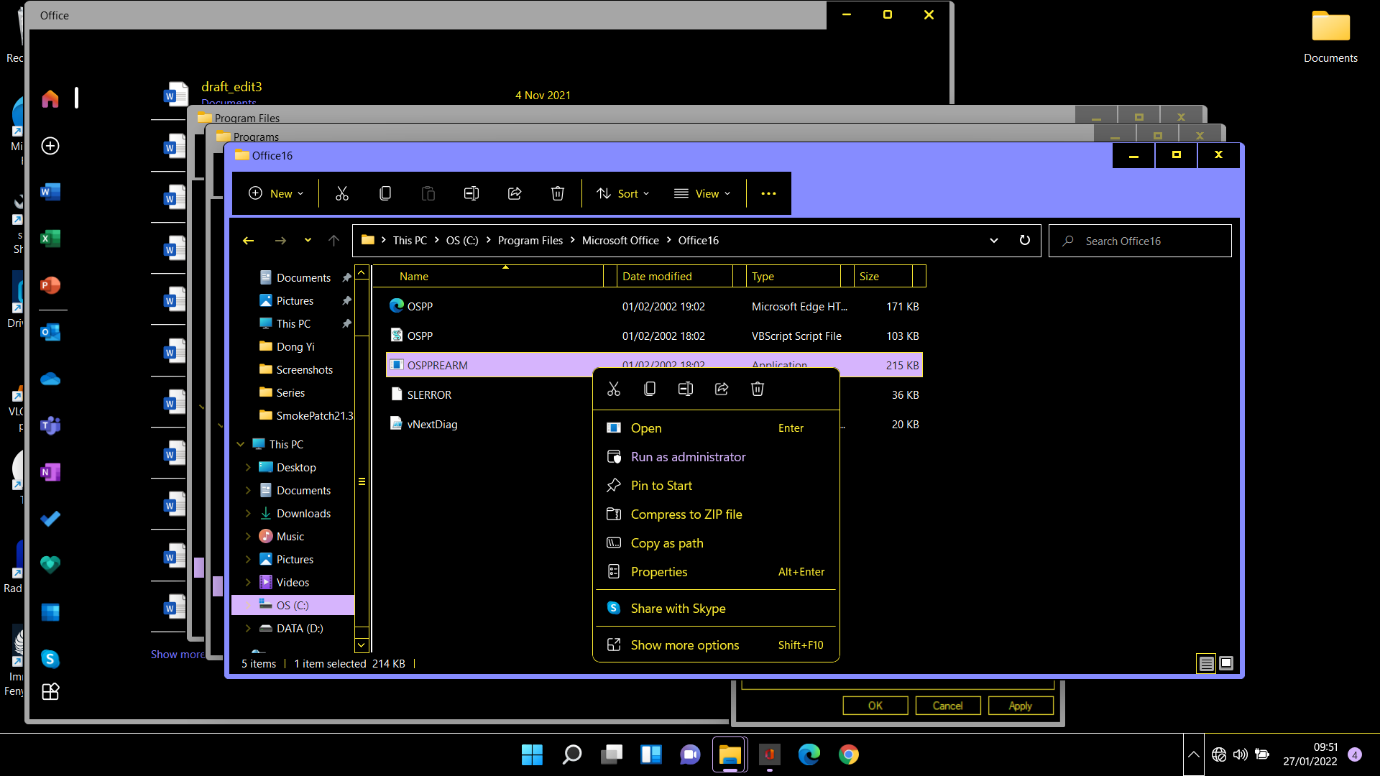 Now close everything, open an Office app, and check whether the error is gone.
If this doesn't work, here are other ways you can troubleshoot the issue.
Fix 1: Check Your Active Microsoft Account
Starting from Office 2016, Microsoft encourages users to purchase a digital license for Office. If you're currently signed in with a different Microsoft account from the one you bought Office with, you can get the "There's a problem with your license" bug.
The simple remedy to this is to make sure you're signed in with the correct Microsoft account. Once your PC syncs with the Microsoft servers, the error banner in Office should go away.
Fix 2: Remove Other Copies of Office From Your PC
Activation or license errors can arise if there are multiple copies of Microsoft Office on your computer. For example, you could have two versions of Office 2019 installed in two separate locations. You could also have Office 2021 and an old version like Office 2013 on your PC at the same time. This can cause an issue like the Unlicensed product error in Office 2013 because your license only covers one edition/copy of Office.
Simply remove the older version of Office you have no further need of and all will be well:
Open the Control Panel on your PC and navigate to Programs & Features.
Look for an older version of Office, right-click it and select Uninstall.
Fix 3: Update Your Subscription
This error can happen to Office 365 users whose subscription has expired. There is usually a grace period to resubscribe to the service before Office features are truncated.
Once you renew your expired subscription, you'll no longer have to deal with the error.
Fix 4: Run Office in Admin Mode
Some users got the problem to go away by running Office and its component programs as an administrator. To check if this works for you, simply run an Office app in admin mode:
Hit the Windows key and search for an Office app (e.g., Word).
Select "Run as administrator".
If this solves the error for you, simply set Word, Excel, etc. to always open in administrator mode.
Fix 5: Check Your Date/Time Settings
If your date or time is incorrect, the Microsoft servers may be unable to verify your Office license. Change your PC clock to the correct date and time in your region.
Fix 6: Update Office
The problem might be due to a glitch or bug that Microsoft has patched via a recent update. Apply all available updates and check if the error is gone.
With activation completed, you should be able to enjoy the full features of Office. Beware though, as your Office apps can be a target for phishing and malware attacks, especially if you use the internet often. To safeguard your applications and ensure that no problems develop when using Office, we recommend Auslogics Anti-Malware for the total obliteration of dangerous and harmful items on your computer.
Just download and install the app and let it scan your computer for potential sources of damage. It will quarantine them and will also automatically block any phishing attempts or bogus messages and documents that might compromise your computer's safety.